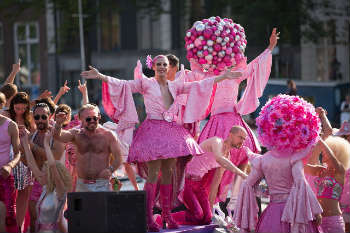 How The First Gay Pride Parades Came To Be
The first gay pride parades arose out of ongoing harassment from police and others, aimed towards LGBT individuals. This week Ira Riklis shares more about the events that led to the first gay pride parades in America.
Pride Parades Time-line: 1969 Stonewall Riots And Aftermath
The Stonewall Riots sparked outrage among the LGBTQ community and supporters. The aftermath of the riots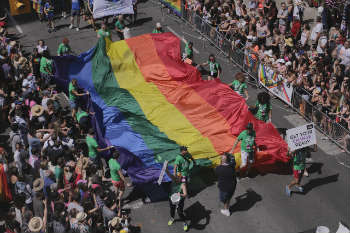 likely contributed to the desire of LGBTQ individuals and their supporters to bring about awareness of the discrimination and poor treatment suffered by the LGBTQ community.
LGBTQT individuals thought of Manhattan's Stonewall Inn as a safe gathering place to socialize, have a drink and meet new friends. Police started putting pressure on patrons and workers by harassing those inside and outside the establishment. However, on June 28, 1969, pressure mounted to the point of full-scale rioting that resulted in several injuries and arrests.
The U.S. Library of Congress calls the Stonewall Riots a "tipping point for the Gay Liberation Movement" in the U.S. Undeterred by police and resistance to gay rights, in the aftermath of the riots new plans secretly got underway.
Plans For Protest And Commemoration
Oscar Wilde Memorial Bookshop became instrumental in planning the first march, with an intended focus on commemoration of the Stonewall Riots one year earlier and to bring about increased awareness and support for gay rights. Craig Rodwell opened the bookstore and he, along with a few other individuals set about their plans for June 1970.
One person who became heavily involved in planning and organizing the planned June 28, 1970, March was Craig's business partner, Fred Sargeant, who has provided Village Voice with a first-hand account of the first Gay Pride March in New York City.
First Gay Rights Parade In New York
Sargeant points out that they persevered in spite of negative press, already feeling drained by the time of that first parade through NYC. Yet, in spite of difficult challenges along the way, Rodwell, Sargeant, other organizers and marchers felt a renewed sense of energy and hope.
The New York Times covered the event, writing that thousands of homosexuals marched to protest discrimination against LGBTQ individuals and to demonstrate the pride among gay people.
Who Really Gets Credit For First Gay Pride Parade?
While organizers and marchers in New York likely felt they planned and participated in the first gay pride parade, members of other LGBTQ communities in the U.S. claim the first gay pride parade occurred in their community. This is likely because those parades and protests also took place on the one-year anniversary of the Stonewall Riots.
For example, the Los Angeles Times reports that the first LA Pride Parade commemorating the riots actually took place in Hollywood. As in the case with the New York organizers and parade participants, the LA organizers and participants of that first parade often underwent discrimination, including suffering beatings by police officers.
In Atlanta, Georgia, LGBTQ community leaders, and members did not hold a parade in June 1970 to commemorate the riots. They passed out literature and began having their Gay Pride Parade the following year.
Diversity Inc does recognize New York City as the first to hold Gay Liberation Day March but acknowledges similar marches in Los Angeles and San Francisco.
Over the next few years, several other cities began participating in organized parades celebrating gay rights, such as the first one held in Cincinnati in 1973.
Gay Pride Parades Expand
Years after many cities across the U.S. began holding annual gay pride parades and festivals, gay individuals demonstrating public affection or even admitting being gay in other countries potentially faced severe punishment. However, LGBTQ communities in some major cities in other countries do now hold gay pride parades.
From Sao Paulo to Paris, from Cape Town to London, the first gay pride parades in the U.S. expanded across the world to celebrate gay pride and awareness.