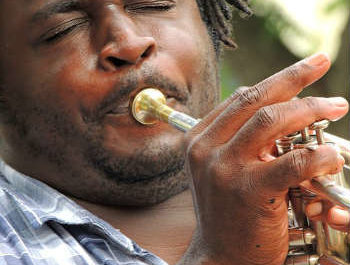 Why We Celebrate Black Music Month
Although many people celebrate different types of music year-round, June is set aside as the official Black Music Month. Ira Riklis shares details about the original idea, the official first declaration and recent celebrations of Black Music Month.
Before Black Music Month Declaration
Although segregation was still occurring in the 1950s and race riots of the 1960s isolated many people, music by black artists blared from jukeboxes, parties, dances and other events occurring even in the white neighborhoods. African-Americans danced, performed, attended concerts or sang along to their favorite tunes by black groups and solo artists.
Black American music made a huge impression on the music industry, already soaring as be-bop and doo-wop gave way to the British Invasion of rock and roll music in the 1960s. Although black singers and musicians had a long history of displaying their outstanding talent, there was no specific acknowledgment of the many contributions made by talented African Americans to the music industry. That changed when three individuals decided it was time that black musicians, singers and other African Americans in the music industry receive the recognition so rightly deserved.
Where The Idea For African- American Music Started From
Nashville Pride explains that Black Music Month has its origins in the idea created by Dyana Williams, Kenny Gamble and Ed White. The three wanted to designate an entire month to give recognition to and celebrate the accomplishments and impact of black music.
Newsweek contributor Janice Williams points out that initially, the idea developed out of then-President Richard Nixon's 1972 designation of October as Country Music Month. However, setting aside a Black Music Month at that time did not succeed. Yet that did not deter White, Gamble, or Williams from pursuing the idea of an entire month dedicated to recognize and celebrate Black American contributions to the music industry.
Black American Music Month Designation
It took several more years before setting aside a month for celebrating black music and contributions made by black artists in the music industry actually happened. President Jimmy Carter designated the month of June as Black Music Month on June 7, 1979. In addition to the perseverance of Dyana Williams, Kenny Gamble, and Ed White, artists that included Chuck Berry petitioned President Carter for a month-long recognition of the contributions and impact of black artists in the music industry.
By this time, there was apparently more of an interest as well as realization that black music did indeed have quite an impact on music in general. However, in spite of the declaration made by President Carter, Black Music Month was still not official.
Newsweek reveals that it was not until the approval of House Resolution 509 in 2000 that June officially became Black Music Month. Since then, every June comes with renewed recognition of the impact and importance of musical contributions by black musical talent.
Black Music Recognition In Recent Years
Since House Resolution 509 went into effect, every June brings new recognition and celebration of black composers, songwriters, singers, and musicians. Over the years, top names in music, media, and entertainment helped grow Black Music Month into the widely recognized celebration it is today.
For example, the Essence Music Festival is a cultural event occurring every year and in 2017, the festivities were set to begin on June 30, the last day of Black Music Month. The greatest names in black music perform at the annual Essence Music Festival, presented by Essence Magazine.
U.S. Presidents make a statement during the annual presidential order announcing Black Music Month.
The annual BET Music Awards occur every June, recognizing outstanding talent and contributions made to black music within the previous year. BET expresses that "Every day" seems like the time to celebrate musical contributions made by African Americans.