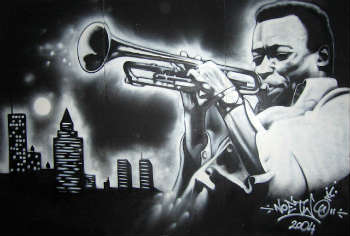 Remembering The Legacy Of Miles Davis
When Miles Davis received his first trumpet at age 13, he likely already planned to become a famous musician. Forging ahead, even when others criticized him, Miles Davis pursued his dreams. Ira Riklis looks at the legacy he left behind as one of the greatest jazz musicians in history.
Miles Davis' Early Days And Persistence
Born May 25, 1926, Davis became a member of the local St. Louis Missouri local musician's union while still a teenager.
As his love for jazz grew, Miles convinced his parents to send him to the famous Juilliard School of Music in New York. The Official Miles Davis site indicates that this "ploy" allowed Davis to join the band of his idol Charlie Parker, a be-bop style pioneer. Davis decided to leave school, striking out to make his mark in the industry.
Making His Mark In Music
The IMDb says that after Davis left school, he met some of the legendary jazz musicians and soon after, had his own debut as a jazz musician. After releasing such greats as "Birth of the Cool" in 1949, he took jazz into the cool-jazz area.
Critics apparently feel this was just one of his contributions that changed the direction of jazz. He released an album in 1953 titled Milestones. The trumpet player took jazz in yet another direction called Modal Jazz. However, it was his 1959 release of a much-acclaimed album that boosted Miles Davis into the limelight as a famed trumpet player and jazz performer.
Kind Of Blue Masterpiece
The 1959 release of, Kind of Blue, catapulted Miles Davis into critically acclaimed fame around the globe. NPR Music points out that it is still the best-selling jazz record of all time and is a universally recognized masterpiece.
In Kind of Blue, an example of modal jazz, Davis brought together legendary jazz performers and together with greats such as John Coltrane on tenor saxophone, Julian "Cannonball" Adderley on alto sax, Jimmy Cobb on drums, Bill Evans and Wynton Kelly on piano, the musicians turned out the great jazz recordings on Kind of Blue.
The most popular track, So What?, remains the likely favorite today, although many people have their own favorite track off the album, known for the spontaneity of the performers. NPR Music points to Arthur Kahn, the author of Kind of Blue: The Making of the Miles Davis Masterpiece, as saying that the recording takes on an almost spiritual quality.
Yet Davis was just getting started, introducing new jazz musicians along the way to his own fame.
Continued Musical Evolution
As the 1960s brought about cries for social change, often expressed through music, Miles Davis began listening to some of the music groups popular for this type of music as well as their own funky style of expression in their records. Sly and the Family Stone and James Brown are two of those examples according to the Miles Davis Biography.
As the sounds of music changed around him, Davis morphed his style once more, with the release of jazz-rock fusion records. Bitches Brew was controversial for more than just the title. Younger people suddenly listened to Miles Davis and flocked to see him as they would some of the younger-generation bands of the day. Albums released into the 1970s brought in yet more talent, forever cementing Miles Davis as a great jazz trumpet

player, bandleader, and composer.
Don't Call Me A Legend
Davis returned to music, playing almost to his September 28, 1991, death due to an aneurysm. Regardless of his legendary work, he did not want people to remember him as a legend. He was quoted saying, "I know what I've done for music, but don't call me 'a legend.'"
Nonetheless, his legacy lives on.