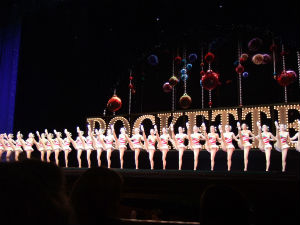 History of the Rockettes
The precision dance company, The Rockettes, perform out of Radio City Music Hall in New York City. Each Christmas season for 77 years, the Rockettes have performed five shows a day, seven days a week. The Rockettes were originally a dance team of 16 women, but currently there are 36 members on the dance team. The popular dance team is well known for their showy and festive holiday costumes as well as their eye-high leg kicks that are done in perfect unison.
Most Watched Live Performance
The show typically begins at Thanksgiving, which is the start of the Christmas season. Throughout the Christmas season, The Rockettes brings in more than 2 million fans for their performance, with sold out performances each Christmas season. Not only is the live show one of the most popular events held at Radio City Music Hall, but the Radio City Christmas Spectacular is also one of the most watched live shows on television during the Christmas season.
Brief History of the Rockettes
The original group was founded in 1925 in St. Louis, Missouri by Russell Markert. The Rockettes originally performed as the Missouri Rockets with an original dance that was inspired by the John Tiller Girls of the Ziegfeld Follies during 1922. The dance team was renamed the "Roxyettes" when they were brought to the Roxy theater in New York City by Samuel Roxy Rothafel. Rothafell later left the Roxy Theatre so he could open Radio City Music Hall. The Roxyettes followed Rothafell to Radio City Music Hall and performed as the group known as the Rockettes on opening night of Radio City Music Hall in 1932.
During World War II, the Rockettes brightened the holidays for servicemen through their part in USO tours (read more about the tours here). The Rockettes continue to do special events, such as the Christmas Tree Lighting ceremony in Rockefeller Center and since 1957 they have performed annually as part of the Macy's Thanksgiving Day Parade. In 2007, the oldest living member of the original Rockettes was 95 and living in Canada.