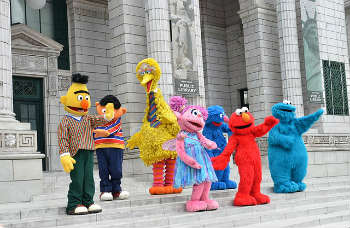 Can You Tell Me How To Get To Sesame Street?
Can you tell me how to get, how to get to Sesame Street? No doubt, you sang that in your head. Sesame Street, one of America's longest-running children's programs, has affected many during its 40+-year run. Few can claim to be untouched by the show that continues to teach kids the alphabet and how to count to ten, so Ira Riklis digs deeper into the world of Sesame Street this week.
In a world where most children's programming is focused on entertaining rather than educating, Sesame Street is a breath of fresh air. Its combination of fun and learning has many parents, if not all, expressing only praise for the historical television series.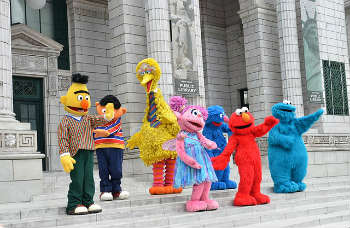 While the show aims to reach specific academic related educational goals, it also teaches morals, diversity, acceptance, and has snuck its way into the hearts of millions. It is no wonder, then, why Sesame Street was given a commemorative day in 2009. Even as you get older, you no doubt will occasionally find yourself wandering to the entertaining, colorful world of Sesame Street.
The Street's Creation
Before you learn how to get to Sesame Street, it would be good to know how it began. The iconic series was conceived by Joan Ganz Cooney, a former public television documentary producer, and Lloyd Morrisett, Carnegie Foundation vice president. With a newfound vision for children's educational programs, their objective was to prepare underprivileged 3-5-year olds for kindergarten and create scholastic yet entertaining broadcasting for preschoolers.
On November 10, 1969, that vision came to fruition, and Sesame Street started its 40+-year run on PBS (Public Broadcasting Station). Its funny sketches, built around puppetry, live actors, and animation, were inspired by the then-popular 1960s television show, Rowans and Martins' Laugh-In. This format proved extremely effective, and Sesame Street was received with adulation and high ratings.
The maverick show was born, and with it, a wealth of Big Bird cups, Cookie Monster cereal, Elmo toys, and young viewers watching educational television. Years later, with 47 seasons, 4,384 episodes, and a cascade of loveable puppet cast members, the show remains a titan among kids' TV shows and many adults' hearts.
Everyone's Accepted
From Rosita, the Spanish-speaking puppet to Julia who has Autism, Sesame Street characters celebrate diversity both culturally and socially. It is near impossible to watch the TV show without finding one fuzzy creature that resonates with you or someone you know. Using easy-to-digest puppet-human conversations, the show discusses important issues like bullying, racial diversity, and accepting people from different walks-of-life.
Even in past years, Sesame Street emphasized diversity, hiring female crewmembers and including minorities in the cast. It has always focused on bringing a positive view of things to both children and adults. The show now airs in over 120 countries, with 20 international versions created.
Kermit's Influence
From its beginning, Sesame Street has been known for its lovable cast of puppets. If you thought Elmo, Big Bird, Cookie Monster and other characters were made without Muppet influence, you were wrong. From 1936-1990, Joan Ganz hired Jim Henson, creator of the Muppets, to invent a crew of endearing puppet characters that would become the inhabitants of Sesame Street.
Healthy Habits
With Michelle Obama and Big Bird's boost, Sesame Street emphasizes the importance of good hygiene, healthy eating habits, and an active lifestyle. It encourages children to go outside with family and friends and expresses the fun in making healthy snacks, jumping around, and playing.
Most importantly, this celebrated show brings together those both old and young. Whether you are with your sibling, friend, or parent, everyone can enjoy sitting around the television watching it together. Even without knowing actual directions, you know how to get to Sesame Street.