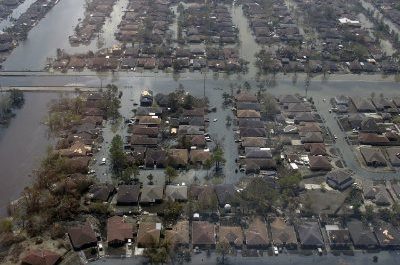 The Events Of Hurricane Katrina
Hurricane Katrina devastated the Gulf Coast in August 2005. Some of the catastrophic damage allegedly occurred due to the failure of hurricane protection systems and slow response of government officials. Learn how the hurricane developed and the devastation that occurred.
How A Tropical Storm Turned Into Hurricane Katrina
Katrina developed as a tropical depression in the southeastern Bahamas on August 23, 2005. The next day it strengthened into Tropical Storm Katrina. Initially, it moved slowly around the Bahamas.
Katrina struck Florida as a Level 1 hurricane. Winds of 80 mph with 90 mph gusts hit southern Florida on August 25, 2005. However, Katrina turned again, initially decreased and then strengthened significantly, as it went out into the Gulf of Mexico. Wind speeds of Katrina reached upwards of 170 mph causing Katrina to become a level 5 hurricane.
The National Oceanic and Atmospheric Administration, National Climatic Data Center explains that although Katrina, at its peak strength, was comparable to Camille's intensity, it was a significantly larger storm and impacted a broader area of the Gulf coast.
Preparation For Katrina
USA Today's Hurricane Katrina Timeline shows that on August 26, Louisiana Governor Kathleen Blanco declared a State of Emergency in preparation for Katrina hitting the State of Louisiana. The following day, New Orleans Mayor Ray Nagin announced a voluntary evacuation of the area.
The problem with announcing the voluntary evacuation, and subsequent mandatory evacuation on the morning of August 28, was that many people simply had nowhere to go. While Mississippi Governor Haley Barbour announced a State of Emergency for Mississippi. It was reported that approximately 150,000 New Orleans residents either refused to leave or stayed in their homes for lack of anywhere to go.
Mayor Nagin announced that the Superdome would become a last-resort shelter. As the National Weather Service announced the potential for  devastating damage to the Gulf Coast, people began to hunker down or take refuge in the Superdome and New Orleans Convention Center.
Katrina Strikes
Katrina weakened to a Level 3 hurricane before striking land on August 29 at 6:10 am. As it wreaked devastation across the Gulf Coast, Hurricane Katrina dumped more than an inch of rain an hour across much of Louisiana and Mississippi. As Katrina made landfall in Mississippi, it reached wind speeds of up to 90 mph in some portions of Mississippi and Alabama.
The devastating rainfall led to the failure of levees, which poured massive amounts of water through city streets, trapping thousands and making an already catastrophic situation worse.
As tens of thousands of people tried to escape the rising floodwaters and other hurricane damage, conditions at the makeshift shelters deteriorated rapidly. Hurricane Katrina ripped a hole in the Superdome on the afternoon of August 29, putting sheltered victims at even greater risk of devastation.
Media And Investigations Give Accounts The Aftermath
Overcrowding, lack of adequate food and unsanitary conditions soon led to the media capturing the lack of response by government officials. People shown on bridges holding signs pleading for help, dead bodies covered with blankets and people stranded on rooftops became the picture of Katrina's aftermath. It was reported that some parts of New Orleans were under 20 feet of water.
Residents and media criticized the slow response of President George Bush, the Federal Emergency Management Agency, and others. An analysis by the International Risk Governance Council points out that federal responders failed to recognize the need to be more actively engaged. The Army Corp of Engineers (ACOE) accepted responsibility for the faulty levees. FEMA'S head, Michael Brown resigned, as did Mayor Nagin.
Recounts of the events state that hurricane Katrina killed nearly 2,000 people and affected some 90,000 square miles of the United States.Tens of thousands became homeless, without essential supplies for daily living. Many people left the area and never returned.