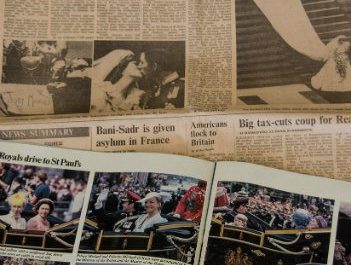 Remembering The Legacy Of Princess Diana
While the world mourned the loss of Princess Diana after her tragic death, people around the world remembered her as "The People's Princess." Princess Diana gained notoriety and favor amongst people across the globe.
Princess Diana quickly became an advocate for the less fortunate. Remembering her legacy means remembering her not only as a member of the Royal Family but also for how she gave of herself so freely, spreading hope and encouragement wherever she went.
The Early Days Of Princess Diana
Lady Diana Spencer married Prince Charles at London's St. Paul's Cathedral in July 1981. After the marriage, Princess Diana often represented the Queen at various events and functions. She also performed other royal duties on behalf of the Queen.
Several months after the marriage, the Princess and Charles announced her pregnancy with Prince William. William came into the world in 1982, followed by Prince Harry in 1984. Diana often took her two children with her as she traveled, much to the displeasure of some, yet with great approval by many people.
Diana's charitable work made its way into the media almost as often as details of the royal couple's marriage. Amid allegations of infidelity and other problems, the marriage ended in divorce in 1996.
Diana, The People's Princess
Princess Diana involved herself in extensive charitable work. One of the causes that Princess Diana became known for was her tireless efforts with HIV and AIDS patients.
When the media captured pictures of Diana touching people and even holding children infected with HIV, it brought a deeper awareness of HIV and AIDS. Love to Know explains that after the media showed Princess Diana touching and holding people with HIV/AIDS, "Many experts credit her with removing the stigma associated with AIDS."
She supported efforts of the National AIDS Trust, which promotes education, awareness, and research related to AIDS.
Princess Diana also supported Centrepoint, a UK charity that provides services to homeless, at-risk and disadvantaged youth. She supported numerous organizations providing care, support, and services to children with life-threatening illnesses and their families.
Diana did not hold back on causes she felt strongly about, even in the face of backlash. One such cause was the issue of land mines. In 1997, she called for an international ban on landmines. The BBC reported that Junior Defense Minister Earl Howe referred to Princess Diana as "a loose cannon," also saying that Diana was not informed on the use of land mines. Still, Diana did not back down in her opposition to the use of land mines.
In all, Princess Diana supported more than 100 causes and charities during her lifetime.
Princess Di's Death
Paparazzi followed Diana one evening when she and her companion Dodi Fayed were together. As their car, driven by Henri Paul, raced through Pont de l'Alma Tunnel in Paris, Paul lost control, resulting in a devastating crash that killed the Princess, Fayed, and Paul.
Photographers received deep criticism for their actions before and after the wreck. Several media sources reported that instead of trying to help, photographers began shooting footage of the wreck.
The Legacy She Left Behind
Although the People's Princess died, however, her legacy lives on. People Magazine reported that Prince Harry now carries on her legacy to end HIV and AIDS. He even publicly took an HIV test recently. Both William and Harry continue supporting causes that Princess Diana supported.
After her death, Princess Diana's sister created the "Diana, Princess of Wales Memorial Fund." It awards grants to continue the humanitarian work close to Diana's heart.The People's Charitable  Foundation is described as another organization honoring the legacy of Princess Diana, the People's Princess. The world lost its beloved princess, however, her legacy lives on.