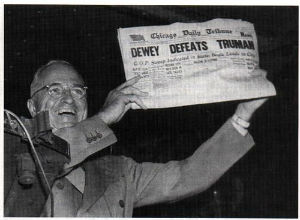 A Look Into The Future Past: 4 Failed Predictions From The Past
Throughout history, many men have made all kinds of predictions about the future from plausible to fantastical. Unfortunately, the ability to accurately predict the future is not common so many of them have not actually come to fruition. Here are four of the most interesting failed predictions from history:
Not Quite The Future They Imagined
Dewey Defeats Truman
In 1948 the Chicago Tribune predicted that Thomas Dewey would defeat President Harry Truman in that year's election. Because of a printer's strike the night of Election Day, the Chicago tribune had to make a decision if they wanted to have their early edition ready for the following morning. It was popular opinion along with the outcome predicted by political analysts that Dewey would take the race by a huge margin. President Truman had been lagging behind the challenger Thomas Dewey in the polls and at the time of printing, the counted votes were largely in Dewey's favor. The Tribune's editor made the decision to send the headline "DEWEY DEFEATS TRUMAN" to the press. As luck would have it, Truman actually won the election which left the Chicago Tribune desperately scrambling to hide their failed prediction.
Irving Fisher's Stock Market Prediction
Irving Fisher was a renowned economist and Yale professor who was revered for his stock market expertise. In October of 1929, stocks rocketed up to never before seen heights. While some analysts felt this could be a sign of an impending crash, Irving Fisher was in complete opposition. Instead, he insisted that that the market would leave stocks at "a permanently high plateau," and recommended everyone's participation. Unfortunately for Fisher and countless other investors, the market crashed soon after and thousands of people lost their fortunes.
Joseph C. Ives's Grand Canyon Prediction
Today, the Grand Canyon National Park is a huge tourist attraction. Many people from all over the country as well as from other countries travel to get a glimpse of this amazing landmark. However, in 1858 Lieutenant Joseph C. Ives was one of the first non-Indians to discover the canyon. He felt the Canyon was a waste and predicted that it would be doomed never to be visited by anyone else.
The 15-Hour Workweek
John Maynard Keynes, a famous economist, predicted in 1930 that 100 years later, people living in industrialized countries would only work 15-hour weeks. He based this on increasing levels of wealth and prosperity among the population. Unfortunately for us, the amount of hours worked in a week has not lessened. You can read the full essay about this prediction here.