8 Facts About Queen Elizabeth II
Born at 17 Bruton St in 1926 in London to the Duke and Duchess of York, the parents of Elizabeth II later became King George VI and Queen Elizabeth. Her father, Prince Albert, and mother, Elizabeth gave birth to Elizabeth II while Albert's father King George V reigned. Baptized Elizabeth Alexandra Mary, few likely imagined that Elizabeth II would ascend to the throne and serve as the longest reigning UK monarch.
8 Little-Known Queen Elizabeth Facts
While many people know some facts about Queen Elizabeth, there are interesting things not commonly known about Queen Elizabeth. Learn interesting, little-known facts about Her Majesty, Queen Elizabeth II.
1. Her Celebrated Birthday Is Not Her Actual Birthday
Queen Elizabeth gave birth to Elizabeth II on April 21, 1926. However, each Commonwealth country traditionally celebrates her birthday on a specified day in May or June. The United Kingdom celebrates Queen Elizabeth's birthday in June.
2. She Became Quite Popular At Just Three Years Old
The Daily Mail published pictures of Elizabeth with her father King George VI when the future queen was just three years old, as well as other early pictures of Queen Elizabeth. However, perhaps the photo of Queen Elizabeth at the age of three that possibly surprises people the most is the one of Queen Elizabeth on the cover of Time Magazine. According to the Royal Air Force Mildenhall, "Queen Elizabeth II graced the cover of Time Magazine for the first time in April 1929 when she was just 3."
3. Elizabeth Was Not Originally In Line To Assume The Throne
The Royal Air Force Mildenhall also explains the details of how the Queen assumed the throne. Queen Elizabeth's uncle, Edward VIII, abdicated in 1936 to marry an American divorcee, Wallis Simpson.
The BBC reports that Simpson was still married when she and Edward VIII met. Wallis Simpson divorced her husband. Edward VIII failed to reach a solution with advisors who expressed disdain at Edward's desire, as head of the Church of England, to marry a divorced woman. When Edward VIII abdicated, his brother became George VI, placing Elizabeth II in line to eventually ascend the throne.
4. She Enjoys Garden Parties
Time indicates that over 1.5 million people have attended the Queen's garden parties, held either at Buckingham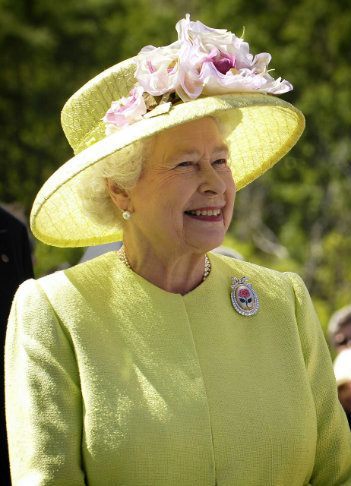 Palace or at the Palace of Holyroodhouse in Scotland.
5. The Queen Drives A Vehicle Without A Driver's License
Reportedly, she enjoys taking "joyrides" in her Range Rover but she does not have a driver's license because she is legally not obligated to have nor does she need number plates on her cars.
6. Launched The British Monarch's First Official Website
On 7 April 2016, Buckingham Palace re-launched the official site, the first upgrade in more than eight years.
Renamed the "Home of the Royal Family," the site takes into consideration the popularity of social media, incorporating and embedding social media and video, as well as making the site, royal.uk, more user-friendly.
7. Drove A Truck During WWII
The Queen insisted on helping out during WWII and joined the Women's Auxiliary Territorial Service. It was while she served with the British army that she learned how to drive.
8. A Teenager Shot At The Queen
While not something Queen Elizabeth wished to have in common, like Queen Victoria, an individual shot at Queen Elizabeth.
In June 1981, during her birthday celebration, 17-year-old Marcus Sergeant fired several shots at Elizabeth. Fortunately, the shots were blanks and no one sustained any injuries. The shooter subsequently served time in a psychiatric facility.