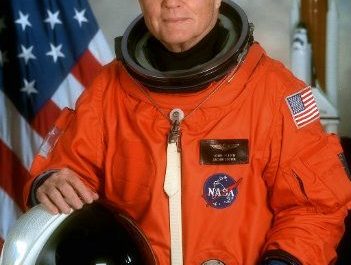 The Life And Career Of John Glenn
John Glenn began his life in Cambridge, Ohio, then moved with his family at age two to the village of New Concord, located 75 miles east of Columbus. Even as a young boy, he had dreams of flying. He pursued that dream, fought in two wars, becoming recognized as a hero even before his recognition as an American astronaut.
Learn more about John Glenn, his path to becoming an astronaut and the years until his December 8, 2016, death.
John Glenn's Dream Of Flying
John Herschel Glenn built model airplanes as a child, dreaming of a career in aviation. There were not many such opportunities in the small village of New Concord Ohio.
However, he eventually gained an opportunity to train as a student pilot, learned advanced skills and put those skills to the test.
Military Career And Test Pilot Service
Glenn initially entered the Naval Aviation Cadet Program. He also enlisted in the U.S. Army Corp. However, he found his place in the U.S. Marines, serving as a fighter pilot that flew nearly 60 missions in the South Pacific during WWII.
The Colorado Springs Gazette reports, "during the Korean War, Glenn earned the nickname "magnet ass" for the amount of anti-aircraft fire his jet drew…" One of his missions became legendary when he landed with over 250 bullet holes in his plane and a hole in the fuselage during the Korean War.
John Glenn's military accomplishments did not go unnoticed. The Official John & Annie Glenn Museum reveals that Glenn received the Distinguished Flying Cross six times, along with other recognition.
Once the Korean War ended, John completed test pilot training and joined the Naval Air Test Center. It was during his service there that he set a speed record in 1957, flying "Project Bullet" from Los Angeles to New York in three hours and twenty-three minutes.
Life As An American Astronaut
NASA took note of the accomplishments that John Glenn made and recruited him for the space program. When Glenn entered the U.S. Space Program in 1959, the Cold War challenged the United States to prove that the U.S. possessed superior skills over Russia.
John Glenn joined the Manned Space Program with other noted Americans, including Gus Grissom, Scott Carpenter and Alan Shephard. NASA selected candidates based on several criteria, including:
Must be a test pilot school graduate
Qualified jet pilot
Minimum of 1500 hours flying time
Bachelor's degree in engineering
Must be in excellent physical condition
Under age 40
Shorter than 5 feet 11 inches
John Glenn met NASA's requirements. Glenn nicknamed his mission "Friendship 7." The Mercury 7 mission suffered multiple delays but finally blasted off from Cape Canaveral on February 20, 1962. John Carpenter, selected as a backup astronaut for the mission, spoke the now-famous words, "Godspeed, John Glenn." Glenn later stated he did not hear the words until after he landed.
John Glenn circled the globe three times in four hours and fifty-six minutes, explains NASA. Glenn kept in constant contact with ground control. "Oh, that view is tremendous!" he reported to NASA. Watch the mission in the second video posted on the New Concord website.
Ohio Senator And Second Space Mission
After the initial mission, Glenn entered politics. He served as a Democrat Senator, serving Ohio for four terms. He had a failed attempt at running for U.S. President.
In 1998, John Glenn became the oldest American to fly in space when he boarded the Space Shuttle Discovery. He easily performed the duties as American astronaut, further taking his place in history.
Weeks after his Discovery mission, John and Annie Glenn opened the John Glenn Institute for Public Service at Ohio State University. Glenn enjoyed interacting with students, even when his health was failing.
His funeral took place on OSU's campus, with 40 U.S. Marines taking his body from the Ohio Statehouse, marching three miles, through rain, sleet and below-freezing temperatures to Mershon Auditorium. They escorted Annie Glenn and their children inside. Vice-President Joe Biden, Senator Sherrod Brown, NASA officials and other dignitaries spoke about Glenn, honoring his life of service.
Godspeed John Glenn.